Here are some links to photos and videos from our 2020 MAG Concert that was on March 1st:
Orcas Choral Society performed:
* Say it with Music — Irving Berlin
* The Pasture — Z. Randall Stroope (text, Robert Frost)
* A Glad New Song — Gwyneth Walker (text, J.B. Atchinson)

"Comfort & Joy" Winter Concert dates were December 7th and 8th, 2019.
We performed:
Songs:
Ding, Dong! Merrily on High!
Rise Up!
Midwinter Song
Patapan Fantasia
O Little Town of Bethlehem
The Darkest Midnight in December
Celebrate, It's Hanukkah!
See Amid the Winter's Snow
Intermission
Here We Come A-Caroling
Gabriel's Message
Make We Joy Now in This Fest
Noel
Comfort and Joy
As I Sat on a Sunny Bank
Silent Night
Angels We Have Heard on High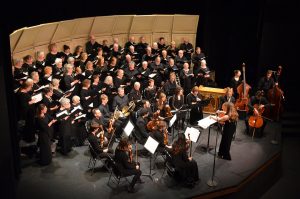 Caroling:
In 2019, we kicked off your holidays with real, old-fashioned Christmas spirit, as carolers from the Orcas Choral Society informally raised a joyful noise around the island in several free events open to the public. It was fun to have you join us for this musical fun!
"We love to sing, and carols are especially joyful," said Lynn Baker, Choral
Society president. "This is our gift to the community. We hope you'll enjoy
these well-known and well-loved songs."
West Sound Community Club Turkey Potluck — 7pm, Sat. Nov. 16
Orcas Island Public Library – 2 p.m. Friday, November 29
Island Market – 2 p.m. Saturday, November 30 (while you shop)
Kaleidoscope Preschool — 10am, Monday, December 2
Orcas Senior Center – 1 p.m., Monday, December 2
Adventist School Chapel — 2:30pm, Monday, December 2
Non-OCS events that took place on-island:
December 15th — An American Christmas: Sunday, December 15th, 2pm. Orcas Island Community Church.
December 15th — Floating Ukulele Jam: floati

ng on Sunday, December 15th (the last Float until the spring ferry schedule starts). Departs FH at 5:45pm, Orcas at 6:45pm, Shaw at 7. Bring your ukulele (not required, you're welcome to just come sing, or listen), Christmas (or other holiday) songs to share, friends and neighbors, and wear your pajamas! Regular boat, just a different day, repertoire, and dress code, yes, the second annual CHRISTMAS JAMMIE JAM!

December 17th — Messiah Sing-Along:  Tuesday, December 17th, 7pm, Orcas Island Community Church. Bring your score or borrow one at the door. Everyone welcome; free and open to the public.